Company Bio
EHB Companies Brand (EHB Cos.) is renowned for creating the most diverse and extraordinary custom homes, high-rise condominium and mixed-use developments in the Las Vegas Valley. EHB Cos. combines modern luxuries with 'Old World' intricacies to produce products and structures of extraordinary quality, classic elegance, graceful beauty and refined comfort. EHB Cos. products incorporate much of its self-produced/fabricated finished materials including stone, iron work and millwork, and, in such an artistic manner that their finishes are unique. Its works project fluid, spacious designs where symmetry, shape and shadow help create functional ornamentation and dramatic balance.
Company History
The EHB Cos. brand began in the mid 1990's when principals Yohan Lowie and Vickie & Paul DeHart combined their expertise. The brand enjoys a solid reputation as a trusted and highly respected builder committed to uncompromising standards. Its success results from its ability to work compatibly within respective jurisdictional contexts, its respect for and cooperation with its neighbors and deliverance of a high-quality product with superior finishes at very competitive prices. These core competencies coupled with its procurement relationships, vertical integration and relationships with highly skilled trades and crafts persons has allowed EHB Cos. to execute on its vision to create and deliver its unique and distractive product.
EHB Companies Brand Developments
---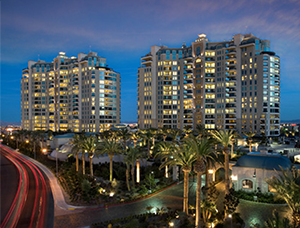 One Queensridge Place
One Queensridge Place is home to 219 residences in two 18-story towers. Residences are a distinctive, limited edition "custom homes in the sky" ranging in size from approximately 2,000-16,000 square feet. One Queensridge Place offers world class amenities and services.
---
Tivoli Village
Tivoli Village, an approximate 1.5 million square foot, mixed use development in the Summerlin area, offers premiere shopping, dining, office, entertainment and planned residential. Phase I's 370,000 square feet is completed with approximately 200,000 square feet for Phase II is under construction. Its unique architecture sets it apart.